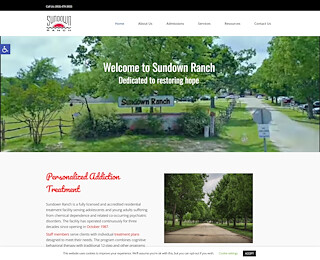 Sundown Ranch is a great choice for individuals who are looking for a quality and affordable addiction treatment center in Waco. Helping people to get sober and stay sober is our business. Every day, we treat people with addictions to different substances and from all walks of life. Plus, our caring, sympathetic, highly experienced, and highly-trained addiction treatment specialists go the extra mile to make all of our patients feel welcome and comfortable.
Sundown Ranch is an addiction treatment center in Waco that stands out in many ways, chiefly, that we really care about our patients! We want to see you get clean and stay clean, and we are willing to do all that we can for anyone who is sincerely trying to help themselves. Call Sundown Ranch today and speak with an addiction treatment specialist to learn how our treatment center can help you.
Dual Diagnosis Treatment Center in Waco
Rarely does a person who suffers from the disease of addiction not have an underlying psychological disorder. In fact, several studies have shown that as many as two out of three people with addiction problems also suffer from co-occurring psychological disorders. These can range from PTSD and other trauma-based psychological conditions to depression and anxiety, in addition to a slew of other psychological disorders.
It's not always clear whether the psychological disorder as developed from the substance abuse and the lifestyle that comes with it or if the psychological disorder was present prior to active addiction, and if the psychological disorder possibly had something to do with the onset of addiction. Surely, research proves that people who have psychological problems are much more prone to addiction, and people who have addictions are much more likely to develop psychological disorders. You see, the two go hand-in-hand.
Additionally, individuals can often go undiagnosed for years because behaviors that are symptomatic of psychological disorders are often ascribed to symptoms of addiction. Put simply; people who have psychological disorders are often overlooked because it is assumed that their addictions are the causes of the erratic, self-destructive behaviors.
Sundown Ranch Can Provide Top-Notch Addiction Treatment
Not every addiction treatment center in Waco is qualified to diagnose, prescribe medication, or otherwise treat dual diagnosis conditions. In fact, Sundown Ranch is one of the only ones that can. Whether a patient has a dual diagnosis condition or not, taking a holistic approach to addiction treatment makes all of the difference!
When searching for an addiction treatment center in Waco, it is wise to find one that does everything it can to set its patients up for success. This includes helping them find a sponsor, providing family therapy, and helping them to identify triggers and cravings. We want to help our patients with the tools and resources they need to get clean and stay clean.
Contact Sundown Ranch
If you are looking for an addiction treatment center in Waco for yourself or someone you care about, don't wait until it's too late! We can help you get clean and stay clean.
Sundownranchinc.com
9034793933
3120 Co Rd 4413 2318
Canton TX 75103 US