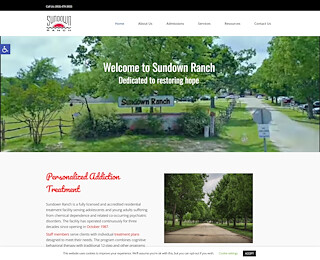 Find help for all addictions and associated disorders at Sundown Ranch, a top-rated addiction treatment center in Frisco. Our team of skilled medical professionals follows a comprehensive approach to help you with all aspects of your recovery
What causes drug addiction?
While there are many underlying causes of drug addiction, the following causes can increase the risk of drug addiction in young adults:
Family History: 40 – 60% of addiction stems out in young adults that have a family history of this condition.
Environmental Factors: Many young adults start using drugs as mere experimentation just to experience the euphoria while some try it out of peer pressure. However, we also see many teenagers do drugs as a way of release to escape from uncomfortable family situations and disturbing relationships.
Early use: Teenagers who are introduced to drugs at an early age develop an obsession with the drug as they grow old.
Mental disorders: Individuals suffering from mental health disorders such as ADHD, depression, anxiety, post-traumatic stress are more prone to developing a form of addiction. They find drugs to be their defense mechanism to deal with pain.
Commonly abused drugs
The most common type of addiction that we know of is Alcohol. When we look at drugs; Marijuana, Heroin, Cocaine, Barbiturates, opioids, prescription amphetamines, and benzodiazepines are some of the commonly abused drugs in America.
Prescription drugs such as Focalin, Procentra, Zenzedi, Ritalin, Adderall, and Dexedrine work similarly to cocaine. It's ADHD patients who usually take these drugs, and when they begin abusing them, it can lead to loss of appetite and elevated levels of blood pressure.
Treatments used for Drug addiction
There are multiple treatment approaches when it comes to helping young adults with their addiction. At our top addiction treatment center in Frisco, we ensure that patients build strong relationships and support one another in the recovery process. This also allows them to open up to each other and feel comfortable.
We work to provide customized treatment that is specifically designed to focus on their needs and issues. We make sure that our patients are actively involved in every step of the treatment journey.
Inpatient Rehab: Our Inpatient rehab program is a structured treatment approach specially designed to address all aspects of our patients 'addiction. In this program, we provide our patients with drug-free, comfortable, and hygienic facility where they have access to 24*7 medical care and therapy sessions. We strongly recommend inpatient rehab for young adults combatting chronic addiction and the associated mental or behavioral disorder.
Outpatient Rehab: Outpatient rehabs is a form of holistic addiction care where we offer programs, treatments, and therapies for young adults who live in their homes during the recovery process. This allows our patients to continue their education or jobs while still attending treatment sessions at our facility throughout the week.
Sundown Ranch is a well-known name for creating a positive impact in the lives of people in recovery. Contact our 24*7 support team to learn more about our addiction treatment center in Frisco.
Sundownranchinc.com
9034793933
3120 Co Rd 4413 2318
Canton TX 75103 US