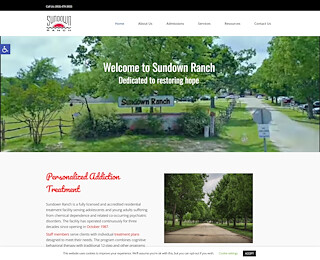 Sundown Ranch, a licensed Addiction Treatment Center in Texas, is a residential treatment facility for young adults and teenagers suffering from addiction to drugs and alcohol. Our 12 step program that includes cognitive-behavioral therapy enables our clients to overcome their chemical dependency in a safe and secure environment.
What does it mean to be chemically dependent?
Chemical dependence or drug/alcohol addiction is a condition where a person experiences withdrawal symptoms whenever attempting to quit. Chemical dependency is a medical brain disorder and includes the abuse of illegal substances such as marijuana, cocaine, heroin, and methamphetamine.
Abusing legal substances such as alcohol, prescription medicines, and alcohol falls under the category of chemical dependency for treatment purposes. Alcohol is the most commonly abused substance.
What are the 12 steps of recovery?
Alcoholics Anonymous, established in 1930, is the first 12-step program where participants are encouraged to admit their past mistakes, commit to a higher power, and adapt to stay sober.
Millions of people use the program around the world to follow a set of 12 guiding principles to attain freedom from substance abuse. We are the only Addiction treatment center in Texas to provide individually customized therapy for each client, along with the 12 step program. This allows us to successfully track their progress and help our clients live a drug/alcohol-free life.
We also have group therapy sessions that are supervised and led by licensed counselors where young adults are encouraged to speak up their issues with the group. This allows them to discuss common issues and thereby support one another in their recovery.
Chemical Dependency Treatment
At our center, we follow a combination of programs specially formulated to help our clients overcome their addiction in the most natural way possible. Listed below are some of the services that we provide to heal our clients from their addiction-related problems,
Treatment Planning – Our first and foremost step in helping our clients with their addiction is to conduct a complete assessment of their condition after which we set clear goals, objectives, and milestones which help us track their progress from time to time.
Medical Services – We offer medical and psychiatric help to our clients along with 24/7 nursing services and on-call physician help. We also provide emergency and hospital services to our resident patients.
Family Therapy – We make sure that the patient's family also takes part in the healing process. We educate the family members on how they can help, share, and understand their loved ones in their rehab journey.
Nutritional Services – Our clients receive well-balanced meals that are custom planned by a team of chefs, medical practitioners, and dieticians. Each client will get a meal based on their condition and preference while also making sure to cover their dietary needs.
Academic Services – Most of our clients being young adults and teenagers, we ensure that they have access to education while still undergoing the rehab program.
Can addiction be cured?
Yes, drug addiction is a treatable disorder. Full recovery is possible with treatment and timely intervention.
As a specialized addiction treatment center in Texas, we can help adolescents and young adults in your home to lead a productive life. Call us today at Sundown Ranch, to help yourself or your loved one overcome the chemical dependency.
Sundownranchinc.com
9034793933
3120 Co Rd 4413 2318
Canton TX 75103 US