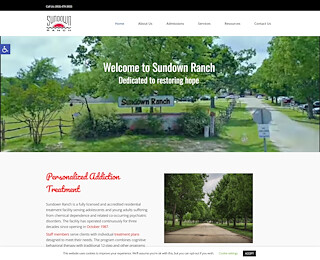 Are you looking for an addiction treatment center in Longview? If so, you are in the right place now. Sundown Ranch is the number one addiction center in town. Between our experienced addiction treatment specialists, our affordable rehab prices, and our leading rehab treatment programs, you'd be hard-pressed to find a better drug and alcohol treatment center in Longview!
An Addiction Treatment Center in Longview that Understands Addiction
Drug and alcohol abuse is almost always symptomatic of another problem. Whether that problem is emotional, psychological, physiological, etc., we must get to the bottom of your problem if the addiction treatment is to be successful. Treating addiction without treating the underlying causes of addiction is like taking an Aleve for chronic tooth pain. The pain might stop temporarily, but you won't solve the problem until you address what is causing your tooth pain. That's how we approach addiction treatment at Sundown Ranch.
How to Choose the Right Addiction Treatment Center in Longview
Whether you are looking for an addiction treatment center for yourself or a loved one, you should realize that not all treatment centers are created equally. Many people – especially those who have never been to rehab before – mistakenly assume that "rehab is rehab, and that's it." Of course, if someone is suffering from active addiction, they should probably get treatment as soon as possible. But taking a little time (even a half-hour to an hour) to research can make a big difference in the experience that you have in rehab.
What Kind of Addiction Treatment Center Should I Go to?
When searching for the best addiction treatment center in Longview, it is important to think about your circumstances, your personality, your needs, and your goals in rehab. For example, what is your financial situation? Do you have insurance? If not, there are plenty of low-cost and even free drug and alcohol treatment centers in Longview and throughout the state. Most of the free ones – such as the Rescue Mission Men's Program and the Salvation Army's Men's Program – are religious or spiritually-based addiction treatment centers. Still, for someone with no money or insurance and needs help to overcome addiction, these kinds of rehabs can be a lifesaver.
You'd also do well to ask yourself questions like, "Can I function in a rehab that has several, potentially dozens, of other people like me?" "What I do better in a private rehab?" "Is my lifestyle such that I would only be comfortable in a luxury rehab?" These are all questions that one will do well to ask him or herself prior to choosing an addiction treatment center in Longview.
Choosing the Right Rehab with Quality Rehabilitation Programs
Texas is full of different kinds of rehabs. From free and low-cost addiction treatment centers to private and luxurious rehab centers; you can find anything you're looking or in the Lone Star State! Still, it's not just the kind of rehab that matters. You also should consider the kind of program that the treatment center uses. This can be equally or even more important than the kind of rehab that you choose.
Sundownranchinc.com
9034793933
3120 Co Rd 4413 2318
Canton TX 75103 US