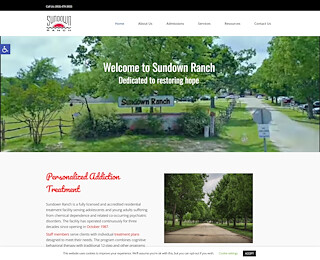 Are you looking for help to combat your chemical dependency? At Sundown Ranch, our addiction treatment center in Irving works exclusively to help addicted young adults stop compulsive drug usage. We follow a holistic treatment approach that involves effective interventions combined with consistent monitoring of patient progress.
Characteristics of a drug addict
Some of the most commonly reported characteristics in teenagers with drug addiction include:
Abrupt changes in mood
Depression, Anxiety, Hostility, Irritability
Paranoia
Making impulsive and rash decisions
Hallucination
Feelings of shame and guilt, etc
Lying and Manipulative behavior
Parents, loved ones, room-mates are the first people to recognize these symptoms in teenagers with drug addiction. Once addiction develops, drug use can easily turn into an obsession, hence, it is crucial to take action to halt its progress.
What are rehab centers?
A rehab center is a facility for people suffering from drug addiction. Rehab centers offer individual support and focus on the betterment of addicted patients through therapy, medications, and counseling in a welcoming and comfortable environment.
Our addiction treatment center in Irving provides a safe and cost-effective solution to young adults addicted to drugs. Our rehab facility ensures the improvement of the condition by keeping our patients occupied continuously with a myriad of activities, therapy sessions, and custom-designed programs.
What is the best treatment for drug addiction?
There is no one treatment for drug addiction that fits all. A good treatment approach should address all the patient concern areas along with drug abuse. The treatment we're using includes a variety of procedures when dealing with this disorder, including:
Behavioral counseling – We provide counseling sessions where we work on modifying patient attitudes and behaviors related to drug use. We help them to develop tolerance to handle stressful situations and find productive ways to deal with such situations.
Medications – To help treat certain types of addiction, we prescribe medications that help patients with cravings and withdrawal syndromes.
Therapy – Therapy can be a very relaxing technique that we use for our patients to overcome their addiction battles. Our combination of cognitive-behavioral therapy, motivational therapy, and family behavior therapy provides our patients with the support and hope for a better living.
Residential Treatment – For adverse cases of drug addiction, we strongly recommend the resident/in-patient treatment to help the patient at the earliest with the best intervention available. Our residential treatment includes well-balanced meals, therapy and counseling sessions, 24*7 nursing services, and an academic program.
Safe detoxification – Detoxification is a treatment approach aimed at safe management of withdrawal symptoms. It is our first step in the addiction treatment process.
Residential treatment for drug abuse
Our residential treatment for drug abuse is for young adults between the ages of 12 and 24. Some of the commonly addressed issues in our residential treatment programs include:
Low self-esteem
Trouble with communication
Academic difficulties
Poor decision making, etc
Recover from your addiction at the best addiction treatment center in Irving! Contact our support team to know more about our treatments and admission policies here at Sundown Ranch!
Sundownranchinc.com
9034793933
3120 Co Rd 4413 2318
Canton TX 75103 US