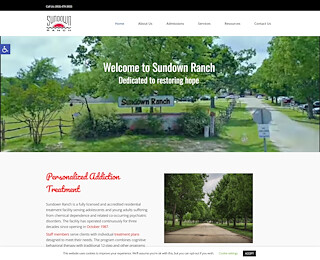 If you're struggling with addiction, it's not just you who will suffer, but your family as well. Our aim at Sundown Ranch is to bring you back to society by offering you specialized support in our Addiction Treatment Center in Plano.
What are the symptoms of addiction?
Substance-related disorder patients present several psychological, social, and physical symptoms. Symptoms can vary with the individual and the type of substance abused, but they will all come in those three categories.
Psychological symptoms – are related to the patient's inability to stop using the substance despite evident health problems. A person with an addiction will feel that he cannot deal with his issues unless taking the drug. He will be obsessed with finding ways of procuring the substance. Some of the patients will even engage in dangerous activities like stealing or illegal trading to get drug money.
Social symptoms – addicts will drop hobbies and activities that previously brought them joy, preferring secrecy, and solitude. The main concern will be to maintain a good supply having small stashes hidden away in different parts of the house. Financial difficulties that an addict will get into will gradually lead to some legal problems as well. On top of this, the addict will refuse to accept that a problem exists, being in continuous denial.
Physical symptoms – loss of sleep, appetite, and weight are the most visible physical symptoms. In time a paleness will replace the healthy look the patient had, and along with this, a change in appearance will start to be visible.
The sooner the addict or a family member identify the signs of an addictive disorder, the easier and faster will be the rehabilitation. If you have any doubt, an Addiction Treatment Center in Plano can advise you how to do a correct assessment.
Causes of an addiction
There are several theories with regards to the roots of addiction, some pointing to the genetic structure of an individual while others are referring to the environment. The reality is that two people may have an abuse disorder related to the same substance, but their background can be totally different.
The hereditary factor – addiction has some genetic components to it, so individuals having relatives with addiction problems have an increased risk of addiction.
Environmental factors – friends and places we regularly dwell have an impact on our behavior. A community where exposure to drugs is high can lead a person on a path of addiction. Inadequate parental supervision, peer pressure, or the presence of drugs at home and school are all factors that can cause an adolescent to fall under peer pressure.
What is recovery from addiction?
Recovery is the process of transiting from an addiction to a healthy and stable life. In our addiction treatment center in Plano, we perform advanced detox and rehab, and we will teach you the ways of living independently.
If you are ready to make the change, please visit us today or make an appointment with Sundown Ranch! Our support representatives will provide you more information and will assist you with the first step in your recovery.
Sundownranchinc.com
9034793933
3120 Co Rd 4413 2318
Canton TX 75103 US