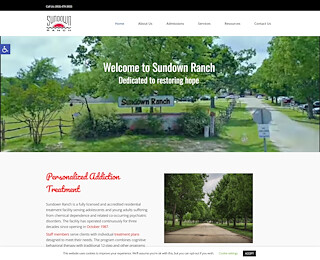 Dealing with substance abuse is creating already a large number of problems, and you do not have to go through the rehabilitation process by yourself. At Sundown Ranch, we offer you the possibility to join our program in the addiction treatment center in Shreveport.
How is addiction treated?
When it comes to treating a substance-related disorder, there is no generic treatment available. We are preparing a tailored program based on the patient's specific situation. Several options proved successful in treating drug addiction, including:
Detoxification – this is the most challenging part of the program due to sometimes severe withdrawal symptoms. During detox, we are removing the drugs or alcohol from the patient's body.
Behavioral counseling – it is a type of psychotherapy and is the most common treatment following detox. Can be done individually or can be part of group therapy.
Medication – is used for managing withdrawal symptoms, and it will vary depending on the substance that the patient is addicted to. Sometimes it will be used on long-term medication to prevent relapse and to reduce cravings.
Aftercare program – it is a lifestyle that a patient should follow based on the teachings of the treatment. Aftercare will also involve a continuous follow-up from our side to prevent relapse.
Types of rehabilitation programs
An addictive disorder is a chronic disease that takes time to cure, but the treatments we're using have proven to be highly efficient. The focus will be on the patient to remain drug-free and to have a fast reintegration into society after leaving the addiction treatment center in Shreveport.
Depending on the resources available and the type of substance abuse, our professionals may suggest an inpatient or outpatient program.
Inpatient treatment – will be recommended in case of severe addiction. The patient will be under 24/7 medical supervision to alleviate painful withdrawal symptoms and to ensure a drug-free environment. After detox, we will continue with the long-term programs to bridge the transition to an independent life.
Outpatient treatment – in case of mild forms of addiction, our specialists may recommend individual or group therapy sessions on a daily or weekly basis. Classes will provide individual support and education on a healthy lifestyle.
The success of a rehab program depends on the patient's commitment to adhere to the guidelines offered by our specialists after leaving the clinic. That is why the aftercare program is essential in preventing a relapse.
How can you overcome drug addiction?
With strong willpower, patients can overcome their addiction. The treatment has been proven to be efficient, but the recovery will take time.
The first step is for the patients to admit they have a problem and to seek help. Our addiction treatment center in Shreveport offers the knowledge, the equipment, and the environment you need to recover and heal fast.
With us, at Sundown Ranch, you will learn new habits for your new life. At our center, you will learn to avoid social triggers, and rebuild your life from scratch, free of addiction and suffering.
Sundownranchinc.com
9034793933
3120 Co Rd 4413 2318
Canton TX 75103 US