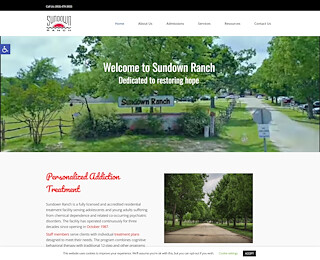 Suffering from an addiction is already painful, but when this relates to adolescents or young adults is becoming a nightmare for parents and society. We at Sundown Ranch have dedicated services to help your child rehabilitate from his or her dependency in our addiction treatment center in San Antonio.
What qualifies as an addiction?
Addiction is a primary disease of the brain characterized by the individual's inability to refrain from abusing a substance. In many cases, substance abuse starts with the person's need to perform better, for example, to extend the hours dedicated to study. Over time an individual will associate the results with using the drug regularly.
In general, addiction is characterized by:
Cravings and inability to refrain from substance abuse
A dysfunctional emotional response
Disabilities and an improper coordination of the body
Failure to recognize significant problems
Social and legal issues, etc.
Treatments for addiction
The first step towards recovery comes with admitting that you have a substance dependence problem. The second step is to find an addiction treatment center in San Antonio, offering a program adjusted to your specific situation. There are different types of treatments, each tailored to our patients' needs like:
Drug and alcohol detox – represents the step where an addict receives help to withdraw from the substance abuse safely. It is often the first step to take in recovering from an addiction, and for the most severe forms, we recommend to do it under strict medical supervision.
Inpatient rehab – after the initial detox, we will continue with the therapeutic support to establish the ground rules of a drug-free life. We will teach you the ways to respond to cravings and temptations inside and outside the clinic. During the inpatient treatment, we will give you the tools that will help you fight your problem.
Outpatient rehab – it is similar to the inpatient program but is addressing the cases with a mild form of addiction. During the recovery process, the patient will live with his family and can even continue working or attending school during the program.
Medication-assisted therapy – some detox cases will require using medication to help patients with severe withdrawal symptoms. We are administering the prescriptions under strict supervision, and dosage will decrease until the patient is no longer dependent on the substance.
Aftercare – similarly important in a successful drug addiction treatment is the aftercare program. Through support groups or individual counseling sessions, our goal is to ensure that you will not relapse.
Can addiction be cured?
Yes, like any other disease, addiction is a treatable disorder, and we can cure it in a specialized addiction treatment center in San Antonio. Recovery, however, is not an easy process and will require family and friends support, and a significant amount of will power from the patient.
At Sundown Ranch, we will guide you during your rehabilitation, but your recovery depends on how much you will invest in the process. To ensure the success of our treatment, we will give you the tools to cope with the addiction, and we will do a thorough follow-up during our aftercare program.
Sundownranchinc.com
9034793933
3120 Co Rd 4413 2318
Canton TX 75103 US