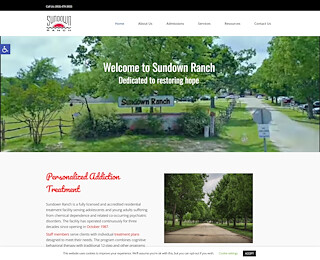 Sundown Ranch is the finest addiction treatment center in Lubbock, partly because our staff takes a holistic approach to addiction treatment, and because we think outside of the addiction treatment "box." Unlike most addiction treatment centers in Lubbock that treat addiction as if it were a stand-alone symptom, Sundown Ranch realizes that addiction only the tip of the iceberg.
Sundown Ranch is a Dual Diagnosis Treatment Center in Lubbock
Did you know that as many as two out of three individuals who suffer from addiction also have a co-occurring psychological disorder? This can take shape as PTSD, depression, personality disorders, anxiety, or one or more of several other psychological disorders. Have you been diagnosed with a mental health condition and you suffer from addiction too? If so, you are in the right place now! Sundown Ranch is uniquely qualified to treat dual diagnosis conditions. We are qualified to diagnose those conditions as well.
Most of our patients who suffer from dual diagnosis conditions have not yet been diagnosed with a mental health disorder. In fact, when it is known that an individual has an active addiction problem, symptoms that they might display that stem from a mental health issue might be mistakenly ascribed to their disease of addiction. Indeed, it's easy to blur the lines between symptoms of addiction and symptoms of mental health disorders. Still, it is crucial that the two be distinguished and the proper diagnosis is made because, treating someone with a dual diagnosis condition for addiction without treating them for their mental health problem, is a recipe for relapse!
Sundown Ranch Treats the Whole Person
When a person checks into our addiction treatment center in Lubbock, we immediately want them to start clearing out the unhealthy influences in their personal lives. The point is; it's easy to get clean in rehab, but it is very difficult to stay clean once you leave rehab! You will optimize your chances to get clean and stay clean by clearing out the people, places, and things that either enable or cause you to abuse drugs or alcohol.
This can involve ending relationships, moving or relocating, making a strong plan for aftercare following your discharge for our addiction center, and more! Equally as important as the removal of the bad people, places, and things in your life, is the need to surround yourself with new, sober, and healthy people, places, and things. This means building your support system while in rehab, which may or may not include relatives.
We Provide Family Therapy at Sundown Ranch Addiction Treatment Center in Lubbock
To maximize our patients' chances for long-term recovery, Sundown Ranch strongly encourages the involvement of family, especially family therapy. If your family or support system is involved in your recovery from the beginning, there is a much higher likelihood that they will understand your situation and be by your side, knowing how to best support you as you go through the many stages of recovery.
Sundownranchinc.com
9034793933
3120 Co Rd 4413 2318
Canton TX 75103 US