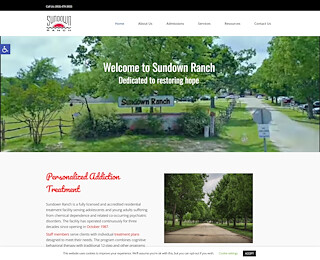 Are you a teenager or a young adult trying to get over chemical dependency or drug addiction? Find guidance and help at our facility, Sundown Ranch – a leading addiction treatment center in McKinney. Our specialists, nurses, and therapists will work in conjunction with you to improve your condition and help you to live a drug-free life.
What does drug addiction mean?
Drug addiction, also known as chemical dependency or substance abuse disorder, is a condition that influences a person's brain and behavior negatively, leading to over-usage of an illegal drug or medication. Chemical addiction may involve a variety of substances, including:
Alcohol
Nicotine
Some prescription medication
Marijuana
Opium
Heroin
Cocaine, etc.
Typically, addictions start with a one-time use of a recreational drug in parties or other social events. For some, drug addiction begins with exposure to prescription medications that contain opioids. Opioid painkillers come with a dangerous amount of risk and cause addiction in young adults quicker than other drugs.
At our addiction treatment center in Mckinney, We conduct blood and urine tests along with other essential lab tests for a complete diagnosis. The diagnosis also involves a thorough evaluation and assessment of the individual by our team of psychologists, psychiatrists, and licensed drug counselors.
Based on test results and personal evaluation, we advise treatment method and duration for recovery to our clients.
How does drug addiction affect the brain?
Drugs can cause irreparable damage to some of the important parts of the brain that are crucial for life-sustaining functions. Drugs interfere with the electrical signals emitted by the neurons through the neurotransmitters.
With continuous use of drugs, your brain signals you to use drugs in larger doses in order to get high. Drug addiction over-activates the part of the brain called 'the basal ganglia.' This part is responsible for making you feel pleasure. When this part of your brain is constantly stimulated to produce drug-high, it leads to a point where you can't feel pleasure from anything besides the drug.
The best treatment for addiction
We offer treatments to our clients based on the type of drug abused. We will also consider other factors, like physical or mental disorders, before planning a rehab program for each client. As a part of the treatment, we recommend long-term follow-up sessions to prevent relapse.
Our treatment programs include,
Individual and group therapy sessions.
Therapy sessions with the family members
We use Detox therapy to help the patient from taking the drug as quickly as possible without experiencing adverse side-effects
Counseling by a highly skilled alcohol counselor
We use a series of behavioral therapies to help clients develop ways to deal with drug cravings and stay controlled
Plan and implement strategies to avoid drugs and relapse to chemical dependency
At Sundown Ranch, we aim to find the best-suited approach for each of our clients to help with their drug addiction. Find help at our top-notch addiction treatment center in Mckinney by booking an appointment today.
Sundownranchinc.com
9034793933
3120 Co Rd 4413 2318
Canton TX 75103 US