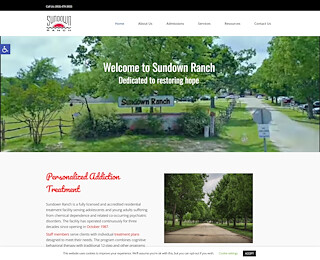 If you are searching for an addiction treatment center in the Woodlands for yourself or a loved one, Sundown Ranch invites you to explore our treatment options. Sundown Ranch offers inpatient addiction treatment, outpatient addiction treatment, and sober living homes for recovering patients.
Sundown Ranch provides a clean, modern, and comfortable addiction treatment center in the Woodlands with industry-leading addiction treatment professionals. Our treatment center is patient-centric and was designed to accurately identify and thoroughly treat patients' needs.
Understanding Addiction
A man once scolded his son, "If you are tired of being broke, why don't you just get a job!" Likewise, many parents, siblings, relatives, loved ones, friends, co-workers, and complete strangers strongly admonish people with addiction problems to "Just stop using if you are tired of being down and out!" The difference between the two examples above is profound, and while the first example might be sometimes warranted, the example of the addicted person is never well-founded!
Sure, regarding the first example of the father telling his seemingly uninspired son to get a job, one could make the case that perhaps the son has the spirit of an entrepreneur and being an employee just isn't for him. Still, the son could (and should) get a job if he has no income and nothing else going for him. On the other hand, the person who is being admonished to stop using drugs or alcohol simply can't. So even though the people who are telling him to stop using are well-meaning, they don't understand the nature of addiction.
How Addiction Affects Substance Abusers
A person who is addicted to drugs and or alcohol is either 1. Psychologically addicted and or 2. Physically addicted to the substance that they abuse. Quitting a substance that you are psychologically addicted to is difficult enough, as the addicted brain is rewired to think it needs the substance for survival, much like water and oxygen.
For someone who is physically addicted to a substance; it's a double-whammy! Not only are they very likely psychologically addicted to the substance, but they will get sick if they stop using because their bodies are dependent on the substances for survival.
How Sundown Ranch Approaches Addiction Treatment
Sundown Ranch is an addiction treatment center in the Woodlands that understands the nature of addiction, how it affects individuals, and how it affects the people closest to the addicted person. Our addiction treatment center in the Woodlands provides a treatment center that is centered around the patient. We never admit more than 50 patients at a time (it's usually much lower), and with 100 staff members, each patient gets the one-on-one treatment that they need deserve.
Choose the Leading Addiction Treatment Center in the Woodlands
Further, we take a unique approach to addiction treatment at Sundown Ranch. We allow our patients to recover at their own pace, and we encourage family therapy while in our care. Contact our addiction treatment center in the Woodlands today to speak with an addiction specialist and get the help you need for yourself or your loved one.
Sundownranchinc.com
9034793933
3120 Co Rd 4413 2318
Canton TX 75103 US