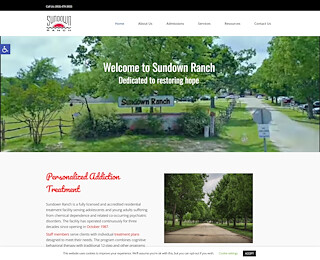 Children are one of the most precious gifts that we are given as adults. We always want what is best for them and will go above and beyond the call of duty to make sure that they are safe with a bright future. However, for children who have a chemical dependence with a mental disorder, the future is not so bright. If your child suffers from chemical dependence with a mental disorder, getting them the help they need can be difficult because there are not a lot of facilities that cater to children and young adults. At Sundown Ranch, we are dedicated to restoring the hope you have for your children and restoring their hope in themselves.
Children's Addiction Treatment Center in Houston
It may be hard to fathom children and young adults with a chemical dependence, but it is more common than you think. Usually, chemical dependency and mental disorders go hand in hand. It is not usual to have a co-diagnosis. Your child is not the only one who suffers from dependence with mental disorders, and there is special help available for them. Our team at Sundown Ranch is certified and trained to deal with children, and for more than thirty years, we have been lending young people the helping hand that they need to find the road to recovery. We take a lot of pride in helping children, as we feel that children are the future of this world.
Helping your Child Seek Treatment for Addiction
Convincing a child or young adult to seek treatment can be a difficult task, but eventually, they will likely come around to the idea. We offer personalized treatment programs for each and every child. Everyone's mental disorders and addictions are different, and at Sundown Ranch, we understand that. We know every child is unique, and that is why we try so hard to treat them that way. What makes us different than other treatment programs is that we only cater to the needs of children. Plus, we address the physical and mental issues that are associated with addiction. We treat young adults up to twenty four years old. We are one of the best children's treatment centers in Houston and have a wide menu of treatment options for you to take advantage of.
Expect Nothing but the Best
Reaching out to our team at Sundown Ranch might end up being the best thing you have ever done for your child. Our team will treat you and your child with the utmost care and respect during the treatment process. Our ranch is over four hundred fifty acres of beautiful rolling hills, lakes, and trees. We can help strengthen your child's confidence and improve their overall self-esteem. Do not delay in reaching out to our staff at Sundown Ranch to give your child or young adult a positive addiction treatment experience. We are dedicated to helping children clear their life of dependence on alcohol or drugs. Let us put our expertise to work for you by contacting us via phone or on our website.
Sundownranchinc.com
9034793933
3120 Co Rd 4413 2318
Canton TX 75103 US