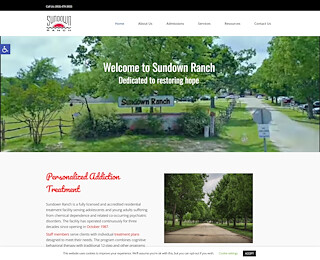 Do you have a family member at home that is suffering from chemical dependency? Sundown Ranch, a top addiction treatment center in Southlake, is one of the pioneer treatment facilities in holistic healing for people with drug/alcohol addiction. We specialize in helping young adults between the ages of 12 and 24 with their addiction and work to improve their condition.
Symptoms of drug abuse in young adults
If you are a concerned parent that noticed any of the following symptoms in your child or teenager, then you should get help for your child as soon as possible:
Depression
Mood swings
Lack of interest in sports/hobbies
Poor performance in school
Change of friends or peer group
Isolation
Fatigue
Hostility and irritability
Unusual odor, etc
Drug use in the adolescent phase can have adverse effects on your child's mental, emotional, and physical well-being later in life. Our Addiction treatment center in Southlake for young adults provide a home-like environment that allows our clients to heal and get rid of chemical dependency in the most natural way possible.
What are the causes of substance abuse?
Drug abuse is a mental health disorder that can be a result of several contributing factors. However, some of the major factors include:
Peer pressure – Usage of drugs and narcotics is unfortunately considered a 'cool factor' among teenager and the intense peer pressure leads them to drug addiction.
Family disturbances – Recently divorced parents, alcoholic mother/father, an infidel parent can all cause substance abuse in adolescents.
Genetics – If you have started using a drug, the chances of you developing an addiction to the drug are high in case you have a family history of addiction. Especially if you have a blood relative with an addiction to drugs, you are in a high risk to inherit the addiction.
Our highly experienced staff, therapists, and counselors try to understand the root cause of the substance abuse in our clients before planning the right treatment for each individual. This helps us to witness noticeable results in our clients within a couple of weeks.
How can we prevent drug abuse among youth?
Sometimes the best therapy that you can use to help your loved one or child from drug addiction is to sit down with them and try talking with them. Set your phones aside and make sure you pick the right time to have a conversation with them (when they are sober and not high or drunk).
Ask your teen's opinion, listen to their views and thoughts on drugs. Assure them that they can be honest with you and do not bore them with lectures. Try to focus on the things that they love doing and how substance abuse can ruin it for them.
With our team of well-experienced professionals and staff, Sundown ranch is an unparalleled addiction treatment center in Southlake that offers affordable and custom-planned rehab programs for your loved ones' recovery. We would be happy to assist you with your concerns, so get in touch with us today for immediate treatment and support!
Sundownranchinc.com
9034793933
3120 Co Rd 4413 2318
Canton TX 75103 US