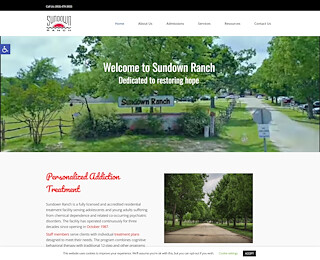 Should you come to a time in your life when you realize that you may need help with your dependency on alcohol, you can trust our staff at Sundown Ranch to help. We understand that no two patients are alike, which is why we like to make sure that we offer a range of treatment options when you visit us for alcohol rehab in Dallas. These are just some of the many benefits that you could enjoy when you decide to get professional help:
Safe Environment 
It is crucial that patients have a safe environment when going through alcohol rehabilitation. This is a dependency that is best treated in a controlled environment where the participant is safe from the chaos of daily life and all of the distractions that come with it. At Sundown Ranch, we have a secure facility free from unwanted outside influence so that each patient has the care and support that is necessary to thrive.
Detoxification / Medical Assistance 
Anyone going through heavy alcohol use and trying to become sober will go through the side effects of withdrawal. This is something that should always be taken seriously and under the guidance of trained medical professionals. The first part of finding the right alcohol rehab in Dallas is to know that there will be help with the process of detoxification. This will allow you or your loved one to have all of the care and medical support necessary for such a withdrawal. 
Education 
Generally speaking, having a drinking problem often comes with a great deal of internal struggle. The underlying factors will vary tremendously from one patient to the next, so it is crucial that each patient has the understanding necessary to conquer this type of dependency. Any effective alcohol rehabilitation plan should include learning in regards to the impact of alcohol on the mind, body, and soul, as well as the manner in which a patient can learn to cope now and in the future.
Focused Treatment
When you work with us at Sundown Ranch, you will be able to enjoy personalized care and treatment that is tailored to your individual needs. No two people are like in their journey, and it is essential that you have the one-on-one and group counseling necessary to set you up for success. What this does is give you all of the tools that you need to maintain your sobriety after moving forward from treatment and back out into your daily life and routine.
Whether it is you who are seeking treatment or you are looking for professional alcohol rehab in Dallas for a loved one, you can look to us at Sundown Ranch. We feature trained team members and all of the services that you need to gain the tools and support you need for getting on the right path. While the journey into sober living may be long and tumultuous, we have all of the programs and options that you or your loved one needs to take life back and enjoy it to the fullest.
Alcohol Rehab Dallas
Sundownranchinc.com
9034793933
3120 Co Rd 4413 2318, Canton, TX 75103
View Larger Map
We welcome your comments!